Looking back at Issue 104 in the "TDReview" write-up on the 2019 Ram I see that I made the comment, "I expected more industry 'buzz' about the Ram/Cummins 400/1000 power rating."
Perhaps my comment was just a little too early in the cycle of press stories. Because, yes, the press did react to the new 2019 Ram Turbo Diesel.
What did the writers have to say?
First: The Truth About Cars
First, on February 28 there was the website, The Truth About Cars and their story "2019 Ram HD First Drive," by Matthew Guy:
"The new Ram Heavy Duty pickups are equally as desirable as their half-ton brethren, particularly in the spiffy new cabin. What does 1.000 lb-ft of torque feel like? Can it haul the mail?
"You bet your Golden Nugget poker chips it can.
"Developing an engine cranking out 1,000 lb-ft of torque was no mean feat. Your author fully expected Ram to be the first manufacturer to break the four-digit torque ceiling in a consumer-grade truck. That's not wholly surprising. What is surprising is the speed and alacrity in which it appeared, not to mention the drivability of a machine that could pull a house off its foundation.

Matthew Guy at Truth About Cars is impressed with the 2019 Ram Heavy Duty.
"How did Ram manage to enter Club 1000? It's important to note not all Ram HDs are created equal. The Cummins Turbo Diesel in the new 2019 Ram 2500 and 3500 Heavy Duty is offered in two variants. Standard output checks in at 370 horsepower at 2,800 rpm and "only" 850 lb-ft of torque at 1,700 rpm. The high output mill, installed in the 3500 truck and grabbing all the headlines, is the one which makes 400 horsepower at 2,800 rpm and 1,000 lb-ft of torque at 1,800 rpm.
"What about the big guns? The halo number of 35,100 lbs that Ram keeps throwing out there? To find out, we hitched up to an 11,500 lb gooseneck and then loaded it up with 15,810 lbs worth of backhoe and 7,790 lbs of cinder blocks. Presto: 35,100 lbs.
"Headed down a 6 percent grade, descending 1,801 feet in 5.4 miles, the exhaust brake exhibited similar tendencies to rein in the massive amount of downhill momentum created by this truck and trailer.
"At a turnaround near the grade's end, stepping out into the crisp Nevada air revealed nary a hit of burnt brake fluid or overcooked rotors. Climbing back in the saddle and pointing the Tradesman up the hill, the contractor-white dualie dragged its load up the gradient with dogged determination. Burying the loud pedal right into the vinyl during the steepest sections of the course resulted in a steady 35 mph speed. With 35,100 lbs in tow, it gained speed as the terrain leveled out.
"Technology like automatic emergency braking, once the domain of luxury sedans, has found its way onto the Ram HD. This system remains functional even when a loaded trailer is connected, as the emergency braking integrates the trailer brakes so a full-on panic stop is available even while hauling. Adaptive cruise is part of the deal and helps reduce driver fatigue.
"In fact, most of what Ram engineers have built into the new HD pickups is designed to just that—reduce fatigue. An alert and rested driver is a safer driver, so the thinking goes, and it is difficult to argue that assertion.
"Prodigious power, bold looks, and a sumptuous interior—perhaps it shouldn't be a surprise if Ram overtakes GM for second place in the truck market, as is their goal."
Next: Automotive News
Next, we have the March 4 edition of Automotive News, "Ram Hopes to Capture Evolving HD Audience," by Vince Bond Jr.:
"Ram knows it has a solid base of hardworking farmers and construction laborers who buy its heavy-duty trucks.
"But in a quest to shake up the ranks of pickup brands, Ram is using its redesigned truck to present a fresh profile of who a heavy-duty buyer can be.
"But the pickup segment, and Ram buyers, 'have grown beyond the traditional users,' commented Jim Morrison, VP of Ram North America.
"Around a third of heavy-duty buyers want a work truck, Morrison says, while another third want a vehicle to haul items such as luxury RVs and horse trailers. Then there's a contingent that wants both, for handling work during the week before a family excursion on the weekend.
"The luxury enhancements didn't happen overnight. Ram tested plusher interiors in its heavy-duty line over the years with its Limited trim and the Tungsten edition, which drew positive consumer reactions and assured the brand that it was going in the right direction.
"Meanwhile, the design team had to create HD trucks that exude luxury as well as job site capability.
"The starkest difference for the 2019 models is the more imposing grille, which is 30 percent larger than on the outgoing trucks. The larger grille was needed for the cooling requirements that come with a 35,100-pound towing capacity, said Mike Gillam, Ram's exterior design manager. He called the towing prowess 'a landmark that sets up everything else' with the design.
"For style hunters, the heavy-duty Rams offer updated sport and blacked-out appearance packages—and Gillam said more options could appear down the line that cater to the wide spectrum of truck buyers.
"Said Morrison: 'They're badass looking trucks.'"

Ram 2018 Grille.

Ram 2019 Grille.
The First Magazine Article
The April issue of Car and Driver arrived at my house. The magazine's Andrew Wendler had this to say about the new 2019 Ram HD:
"Forget the muscle-car wars. A higher-stakes arms race is happening in the heavy-duty truck segment, and Ram just drew a 1000 lb-ft line in the sand. Ram was also wise enough to update the HD lineup with plush interiors and new technology to appeal to modern truck customers, many of whom missed the memo about not mixing work with pleasure.
"Essentially new from the ground up, the frame makes extensive use of high-strength steel—98.5 percent of it is formed from the stuff, according to Ram. Numerous improvements to the front and rear axles enhance capability and durability. The 3500 has rear leaf springs while the 2500 retains the coil setup and offers optional air springs."
I continued to watch for Ram/Cummins HD truck articles in the press. Then the floodgates opened
ACCOLADES FROM THE PRESS – RAM HD

My collection of Ram HD-related information.
Got it, the floodgates opened: Now it is a challenge to your editor to find some comments that are insightful, entertaining and/or new to the audience. After all, we've been following the truck's introduction, well, since the first Forth Generation HD truck was available back in the fall of 2009. We've seen all of the facts and figures, what new can be told, what might we have overlooked?
Here goes:
March 2019, Motor Trend, "First Look, Ram HD"
MotorTrend mentioned: "The optional rear suspension gets a 'Bed Lowering' mode for easier loading. Payload—a best in class 7680 pounds with a gasoline-powered 3500, 6910 pounds with the Cummins."
May/June 2019, Truck Trend, "Top of the Class"
Truck Trend commented: "These stouter body elements (hydroformed front-end structures and tailgate reinforcements) contribute to a tougher body shell less prone to noise, vibration, and harshness, but Ram took that a step further in a variety of ways. Revised engine and exhaust mounts reduce the amount of vibration transferred to the frame. Active Tuned Mass Modules (ATMM) on the framerails apply a cancelling vibration to the truck whenever shaky nuisances are detected.
"One unique feature has been retained for '19: Ram's class-exclusive Mega Cab body configuration. Featuring luxurious reclining rear seats and a massive amount of storage behind them, the Mega Cab boasts more than double the interior storage capacity of competitors' trucks. To borrow the old hot rodder's maxim, there's no replacement for displacement, and this newly redesigned interior still displaces a lot more than its competition."
May 2019, Motor Trend, "Strength in Numbers"
More from Motor Trend: "However, if you actually use your truck to move stuff around, the 2500 Tradesman is a great, low-dollar, high-capability alternative to a half-tonner. Ram hasn't announced pricing yet, but you'll be able to slide into the Tradesman gasoline-powered, with a vinyl-skinned interior for about $35,000 with no options.
"On the other end of the pricing spectrum sits the full-fat 3500 Mega Cab dually with the aforementioned optional 1,000-lb-ft engine, in either Laramie Longhorn or Limited trim with the Max Tow package—which can set you back over $90,000."
July/August 2019, Truck Trend, "Heavy Hitter"
From Truck Trend: "Yep, you've read this before, but it bears repeating: "First and foremost, this truck is quiet—almost too quiet. Ram engineers went to great lengths to tune out unwanted sound from the cabin, and the result was a nearly 50% reduction in noise. Cruising down the road feels more like driving a ½-ton pickup than a Heavy Duty. Thankfully, there's still a bit of the familiar Cummins engine hum that continues to make its way to the occupant's ears.
"We've already spent a year raving about the wonderful interior of the 2019 Ram 1500, so we'll spare you here. We'll just say this: It's just as amazing in the Heavy Duty as it is in the light duty. From the highest trim to the lowest, these trucks are very well-appointed and overflowing with useful technology. The seats are comfortable, audio quality is incredible, and uConnect is one of the best infotainment systems available today. And with the amount of real leather, wood, and metal used in the higher trims, these work trucks are putting many luxury brands on notice."
ACCOLADES FROM THE PRESS – RAM 1500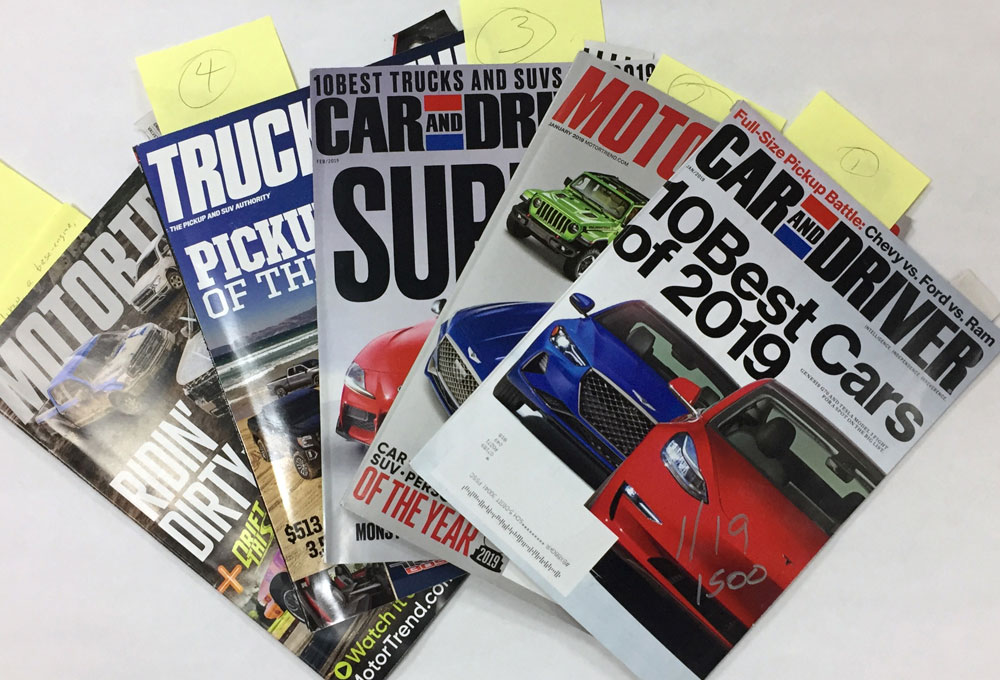 My collection of Ram 1500-related information.
And, for our little brother, the Ram 1500 gasoline-powered truck there were more than several write-ups and comparisons:
January 2019, Car and Driver, "Full Size Pickup Battle"
In this article the Ram, Ford and Chevrolet 1500 series trucks were compared. All had four-wheel drive, all had Limited-type trim. The engines varied in size (Ram 5.7, Ford 3.5 turbo, Chevy 6.2).
The summary: "It's a little cliched to say of a tow vehicle that you don't even feel the trailer, but we were shocked by how literally true that is in the Ram."
"…the Ram is far and away the most thoughtfully executed full-size pickup in existence. For starters, it looks like a Mercedes S-class exploded inside."
"The Ram is a gooey puddle of luxury sedan with a tow hitch poking out from the rear bumper. It's a toy hauler that is itself a toy. It's our new favorite full-size pickup. And it's worth the money."
January 2019, Motor Trend, "2019 Truck of the Year"
Motor Trend's "Truck of the Year" spotlights only new-introduction vehicles. As such the only Ford entry was their F-150 diesel. GM had five variations of the new Chevy and GMC 1500 series trucks. Ram had five variations of their new 1500.
The verdict: "Where Ram makes the biggest value argument is surprisingly in its two most expensive trims: the $52,685 1500 Laramie Longhorn and $55,285 Limited. These two deluxe trucks simply blow the competition out of the water. They offer the tech that contractors and civilians alike require and expect, and quite a few luxury automakers could learn a thing from the way Ram matches colors, textures, and materials in these cabins."
"No segment is more competitive or more important to Detroit's automakers and blue-collar American workers than half-ton pickups. Theses trucks are the face of their brands–purchased, driven, and loved by millions. They're dependable commuters, tools, and toys that form the backbones of our families. With such a diverse skill set needed, it's easy to just miss the target. But the Ram 1500 hits the bulls-eye. No pickup in the segment better balances capability, efficiency, value, and quality."
"The Ram 1500 retains its old-school appeal while being refreshingly modern in style and substance. It's refined and sophisticated without surrendering its dirty-fingernails roots. For that, Ram is our 2019 Truck of the Year."
February 2019, Car and Driver, "10 Best Trucks and SUVs for 2019"
In this Car and Driver article, the C&D Staff chooses a "segment" winner.
For example, Chrysler's Pacifica was the segment winner for Best Van, a Hyundai Kona was the best Subcompact SUV, etc, etc. The half-ton, full-size pickup category had entries from Ram, Ford and GM.
Their comments: "Nobody spends more pennies on its interiors than Ram. In the 1500's upper trims, Laramie Longhorn and Limited, the detailing and material richness exceed not only those of any other current pickup, but the standards established by any domestic vehicle in many decades. These are Duesenbergian works in the age of plastic. No American vehicle today–not a Cadillac, not a Lincoln, not a Tesla–can hold a candle to the top-level Rams' cabins."
"In it's comfort, composure and capability, the Ram 1500 is America at its best."
March/April 2019, Truck Trend, "Pickup Truck of the Year 2019"
In the Truck Trend comparison they invited all-new or significantly updated for the '19 model year trucks. There were two Rams, two Fords, two Chevys and two GMC 1500 series trucks in the evaluation. This comparison was interesting as they used score cards and totalled the values:
Ram 149.37
GMC 142.93
Ford 137.12
Chevy 132.57
"While we try not to play favorites, it's clear that the Ram lineup is what most of us wanted to take home at the end of the test, and that's no accident. After years of steady improvement and evolution, ram has finally build a world-class, no-compromises pickup that's ready for anything."
June 2019, Motor Trend, "Who Makes the Best Work Truck"
Wow, a base-engine 4×4, crew cab, base interior comparison. Let's get to the nitty-gritty: the winner is, Ram 1500.
Their comments: "With the best ride quality and fuel economy, excellent utility, and a snappy interior for a base truck, our current Truck of the Year hauls home a bedload of gold medals. Its smart packaging and superior body control when towing or hauling heavy stuff make it the best half-ton work truck you can buy today. It does cost a bit more to get the features you want, but it's worth it."
Robert Patton
Turbo Diesel Register Staff