Last year, the new vehicle display at our local Costco featured a stunning 2018 Ram Cummins 2500 Longhorn 4×4. Upscale accessories and options lured a stream of curious consumers. The $75,800 MSRP window sticker caught the most attention.
In a recent post at the TDR forum, a reader shared his search for a used Ram truck. Citing noteworthy design flaws on models he could afford, his first diesel truck quest was fraught with concerns.
New truck prices have soared. The Ram Tradesman trim level, trucks like this well-equipped 2500 4×4, serve as a hedge against inflation. If the Tradesman is too expensive, a pre-owned Ram Cummins can be a safe and reliable alternative. Total price: $50,025.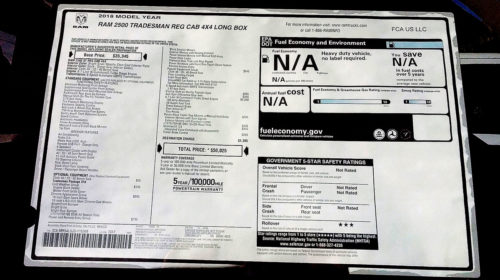 Which Truck to Buy?
Ram Cummins trucks remain the best choice in the light truck market. New or used, a Ram search begins with clarifying the intended use. Is 4WD necessary? Will a 2500 work, or do you need the load capacity of a 3500? Do you need a SRW or dually?
Before assessing trim levels, creature comforts and ride quality, consider available bed sizes, cab layouts and load capacities. Select the right GVWR and wheelbase length for your hauling chores.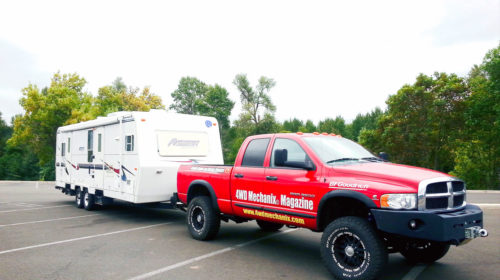 Pay close attention to wheelbase lengths from a drivability standpoint. A 160.5" wheelbase HD 2500 Mega Cab can be awkward in a variety of driving situations. Our 2005 Dodge Ram 3500 SRW 4×4 with the Quad Cab has a short 6.3-foot box and 140.5" wheelbase. This has proven ideal for backcountry, on-highway and bumper-pull trailer maneuvering.
Once you pick the optimal chassis and cab size, consider the trim and seating options. Interior space must meet personal and family needs. Used vehicle shopping often results in trim and body color compromises, but don't waver on chassis, cab and powertrain expectations. When relevant, hold fast to options like four-wheel drive (4×4) or air conditioning.
Focus on the right wheelbase length, GVWR, two-wheel drive or 4×4, rear axle type (single or dual-drive) and transmission preference. If you need an automatic transmission, ignore models with a manual transmission. If you prefer a manual transmission or have good reason to avoid a particular automatic transmission, hold to a stick shift truck.
For driving on narrow backcountry trails, weaving through carved out giant trees or threading through fast food and bank drive-through lanes, forget the dually. When plans include a fifth-wheel gooseneck weight over 1,500 pounds or a cabover camper approaching a ton, consider the Ram 3500. If you opt for the dually, plan to park at the curb and eat your fast food indoors.
The next choice is which Ram Generation to consider. Used buyers have access to online reviews, consumer surveys and endless forum discussions. Information on specific model year problems, the chassis shortcomings and common Cummins engine issues can be readily found. Each Ram Generation has pros and cons. Before buying, know the parts and labor costs to remedy the troubles. A savvy used Ram buyer will negotiate a deal that covers anticipated repairs or upgrades.
Concerns like injector service and turbocharger wear can affect any model year. Specific problems like steering gear and linkage woes apply to Third Generation models (2003-2009). Emission system troubles like failure-prone EGR coolers plague the later 6.7-liter engines. Automatic transmission rebuilding or manual transmission clutch service is inevitable at higher mileage. Verify whether this work has been done. If so, who performed the work and is it warranted?
As a rule, older technology can be simpler. There is less likelihood that a Ram's NV271D manually shifted transfer case will cause trouble than a 273 unit with an electronic module and electric shift mechanism. Sure it's convenient to shift a knob on the dash, but is it worth the restoration cost? Consider these potential troubles.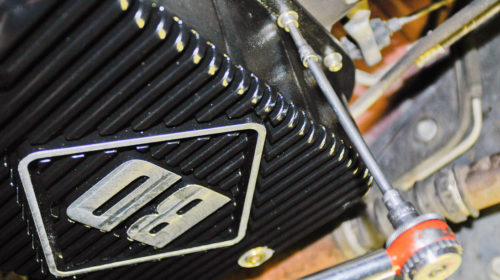 Will your "engine block 53" casting spring a leak? Roll the dice on a 1999-2001 Ram Cummins truck with this block. Some in-chassis remedies do work, but if not, another block is the only option. Before making an offer on such a truck, price out a rebuilt short or long block engine assembly.
For those of us with engine, transmission and axle rebuilding experience, a Ram's model year is less concern—especially if the truck has an exceptional history. In 2004, I passed up a particularly clean, one-owner 1993 Ram 350 LE Regular Cab 4×4 SRW truck with 12-valve Cummins power and a manual 5-speed G360 transmission. Sporting a Warn front bumper and winch, otherwise original in every respect, the well-equipped pickup sold privately in two days. The head turning Emerald Green First Generation Ram/Cummins model was a steal at book value.
The Vehicle's History
A used vehicle's traceable history is an important asset. Though not always possible, a one-owner vehicle with service records back to the date of original purchase has cachet. Service performed routinely at an authorized Dodge/Ram dealership should also be considered a plus.
CARFAX has altered our approach to buying used vehicles. The VIN-based CARFAX report can be valuable. A copy of the truck's CARFAX may expose glaring body and frame work or major powertrain and axle repairs. Be aware, though, that a CARFAX report may be incomplete. Sometimes owners pay out of pocket for collision damage repairs to avoid filing an insurance claim, at the same time avoiding a CARFAX ding.
Homespun and "under the table cash" repairs performed outside the insurance claims system will have no CARFAX paper trail. Unscrupulous dealers and unethical owners might pull these stunts. An example would be a severely damaged vehicle that gets fixed outside the system without generating a stigmatized "Salvage," "Rebuilt" or "Reconstructed" title.
The underpinning of any truck's history is how the vehicle has been used. A dually, in particular, raises concerns. Did the vehicle carry a 3,500 pound cabover camper its entire on-highway life? Or pull a multi-car carrying trailer?
A heavy-duty, fifth-wheel in the pickup bed should also raise questions. If this is a private party sale by owner, ask about the load pulled. Was it a lighter RV trailer or an eight-horse trailer with tack room?
Unfortunately, most dealerships and used car lots cannot or will not provide these answers. For authorized dealership trade-ins, there may be a legitimate effort to protect the privacy of the previous owner. Often, especially in the case of used car lots, the vehicle was bought "as is" at a wholesale auction. Aside from the aforementioned CARFAX report that you can purchase, there is no history.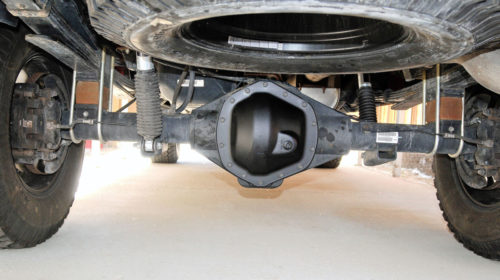 Telltale Signs of Wear and Abuse
Professional reconditioning can mask many indications of abuse and neglect. The greater concern is whether the truck has left the road at speed or sustained severe collision damage. Body shops concentrate on restoring sheet metal and paint and often skip over signs of frame or rocker panel impact and repairs. Look closely at the frame and related body areas.
On 4x4s used off-pavement, search for signs of high-centering on rocks and bent steering linkage. As long as the frame and axles are intact and undamaged, lesser wear items can be restored. The underside of the truck is in many ways more revealing than the interior and body.
Check the body for signs of newer paint and overspray, fresh sheet metal or patched rust. Vehicle electrics should look original. Modifications or makeshift repairs are always suspect. Add-on gauges and security systems mean under dash electrical splicing. If done properly, that's an asset. Otherwise, gremlins can lead to expensive troubleshooting and restoration work.
A good detailer or reconditioning professional can cover up plenty. Years ago, this could even include rolling back speedometer mileage. Fortunately, that practice has been thwarted by computer technology. Vehicle history and service records with dates can confirm true mileage and the truck's current condition.
Look for subtle wear at pedal pads, floor mats, carpet and seat covers. Knobs, the dash pad, headlamp covers, door sill rubber, grille delamination and rock chip pitting can indicate wear over time.
Optimally, the vehicle was garaged or beneath a carport. Otherwise, calculate the costly UV damage. Winter road salt can create surface rust, etch castings, perforate sheet metal and weaken a frame. Try to estimate the degree of use and wear on a 4×4 front axle and transfer case.
If possible, a used truck prospect should be placed on a four-wheel alignment rack and checked for frame and axle alignment, loose front end ball-joints and steering linkage, pitman arm or steering gear looseness, worn 4×4 front axle shaft joints, brake rotor and pad condition and driveline integrity.
A reputable dealership should have an inspection or reconditioning record. Ask to see the vehicle on an alignment rack or hoist. The truck's undercarriage should look original and unblemished, including the exhaust system, skid plates, the oil pans and axle housings.
Aftermarket upgrades can be an asset or a curse. If quality components have been installed properly, there is added value. However, inferior quality parts or poorly installed aftermarket add-ons can require expensive remedies. When in doubt about an aftermarket chassis lift or other modifications that impact vehicle safety or handling, get the vehicle to a frame and alignment shop for evaluation.
Weak Points and Failure Prone Components
Any vehicle will wear with time and mileage, and used vehicles often need service work. There may be FCA extended warranties or recalls on specific failure-prone or unsafe parts. A NHTSA voluntary recall might address defective air bags, questionable or failure-prone steering, brake and suspension components or electrical issues.
The vehicle may need crucial work, so explore recalls. A recall will be performed for free at an authorized Dodge/Ram dealership. Safety recalls or extended parts warranties follow the vehicle identification number (VIN). A new owner can approach an FCA dealership service department and verify which recalls have been performed. The NHTSA website offers further details about recalls.
Many troubles are not covered by recalls or extended warranties. As a rule, once out of warranty, the failure of service parts, powertrain members, an axle unit or the HVAC components become the owner's responsibility. A used Ram buyer inherits these out-of-pocket repairs.
Cummins powered Ram trucks have stout frames and suspension, a proven beam front 4×4 axle and reliable GVWR/GVCW ratings. The longevity of the Cummins engine is legendary. There are, however, specific weak spots within each generation of Ram Cummins trucks. Some issues have costly remedies.
If questionable maintenance or usage has you concerned, crankcase oil analysis is a useful fleet operator's tool for assessing engine wear and damage. Low oil pressure, excess engine heat, knocking during cold start-up or excessive piston noise call for a quick no-sale. Consider an oil analysis and/or walk away from the purchase.
Interested in a particular truck? Research the model's shortcomings and remedies before making an offer. Want to know what fails? A thriving aftermarket has developed around Dodge Ram transmissions and Cummins engine needs. BD Diesel Performance and other vendors design products that remedy OEM shortcomings.
Automatic transmissions have been a concern since the 12-valve Cummins models. The First Generation's A727 3-speed Torqueflite easily tolerated the milder Cummins torque (400) and horsepower (160), but lacked an overdrive gear. Trouble began with the 1991 transition to the A518/46RE four-speed overdrive transmissions and worsened as 24-valve torque increased during the 47RE and 48RE era. Aftermarket engine tuning overrides OEM torque reduction safeguards, putting these transmissions at further risk.
Considering an automatic transmission in a 1989-2007 Ram? Review the parts upgrades and complete performance transmissions available from TDR advertisers. Sonnax parts listings are another resource for learning weak spots in Ram truck automatic transmissions.
Sonnax serves the transmission rebuilding industry, designing components to keep rebuilt units alive and warrantable. At present, all but the 68RFE and Ram/Aisin Seiki AS69RC automatic transmissions can benefit from Sonnax hard parts upgrades. BD Diesel Performance and others offer high performance and severe duty 68RFE transmission builds.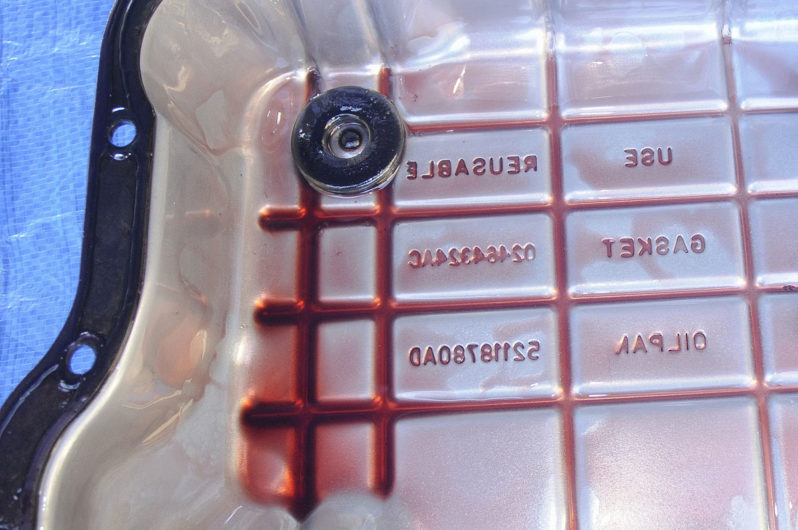 Heat is synonymous with automatic transmission damage. Overheat causes severe stress and damage. An automatic transmission can fail as quickly as a single summer trip with a hefty trailer load on a long grade. Determine whether summer towing with a large trailer was part of the vehicle's history.
Worth noting, the manual Getrag G360, NV4500 five-speed, NV5600 six-speed and G56 manual transmissions have a decent record behind Cummins engines. Mileage and type of usage will dictate wear levels. Beware of synchronizer issues on any manual transmission, often the result of improper shifting technique. The overdrive gear is always vulnerable, and heavy loads on steep grades in overdrive will hasten wear.
Expect a clutch and flywheel replacement at higher mileage, sooner in the case of clutch abuse. Aftermarket upgrade components are advisable for heavy towing. Consider the cost of a clutch job when buying a used truck. Chain drive transfer cases wear over time, too.
Although Cummins engines deliver phenomenal service, their fuel and turbocharger induction systems need attention at higher mileage. In particular, the used truck buyer looking at 1998.5-2002 models can expect trouble with the Bosch VP44 fuel injection system.
For models without a fuel pump in the tank, an aftermarket lift pump is a sensible upgrade. This need prevails through 2004 models. Video details on a lift pump installation are available here.
On 2007.5-2012, 6.7-liter Ram trucks with an EGR valve and cooler can face expensive repairs as well. The EGR and cooler system can fail, and once out of warranty, the owner will pay. There are aftermarket remedies. Some meet emissions requirements, some defeat the emission controls. You need a legal, functional cooler and EGR valve to pass emissions inspection. As a used truck buyer, inspect the EGR system closely.
Beware: If your state requires vehicle emissions inspection, all of the original emission devices (or legal replacement parts) must be in place and operational. Missing emission control parts can create a considerable expense. Note that compliance parts for older Cummins diesels are scarce.
If an otherwise attractive 1998-2002 Ram diesel truck is in your sights, verify the Cummins block casting number. (Not all blocks in these model years were #53 castings.) If the block is a 53 casting, a rebuilt exchange engine is one solution. (Make sure the 53 block is an acceptable core.) An otherwise desirable truck with an adjusted price could make a fresh replacement engine practical.
Some have luck "stitching" the crack area then reinforcing the 53 block. I have TIG experience on iron cracks and would likely prepare and weld the crack area, adding steel plate reinforcement in the process. Worth noting, this is considerable labor in an awkward location. If the engine is due for an overhaul, it would be easier to find a good block. The 53 bare block will fetch a fair return at the local salvage yard.
Expect the more common parts failures like a water pump and belt tensioner. Our 2005 Ram 3500 had water pump failure (fortunately while parked in the driveway). Replacing the pump was neither difficult nor costly. I did the tensioner and belt at the same time.
U-joints, 4×4 front wheel unit bearings, ball-joints, batteries and shock absorbers are also perishable items. If these parts are original and the mileage is up there, prepare for these expenses.
Many Third Generation Ram trucks need an HVAC vent door fix. Failure of the OEM plastic blend doors and nylon drivers is not a "if" but rather a "when". The repair requires disconnecting the A/C hoses at the firewall, lowering the steering column and removing the entire dash assembly to access the plenum box. Parts replacement takes place on the bench. Avoid YouTube videos suggesting ways to perform this job without removing the dash.
Shopping for a 2003-2009 Ram truck? Check the function of the heater, A/C and each air flow vent (including defrost and floor) before making an offer on the vehicle. Stock type replacement doors and drivers are failure prone and not worth installing. I am considering the Blend Door U.S.A. kit (https://www.blenddoorusa.com/) with CNC aluminum doors and drivers.
Quality Repairs, Parts and Service Work
A job like the Third Generation air vent doors can be as expensive as a clutch replacement. There are slipshod shortcuts like hacking through the dash and plenum housing then patching the gaps with duct tape. Peek beneath the dash. Work performed to less than OEM standards is unacceptable.
On repair invoices, look for genuine Mopar parts or quality aftermarket equivalents. I recently installed Timken front wheel unit hubs on our Ram 3500 4×4. Mopar parts were the option. Avoid Brand-X parts, including batteries, drive belts and other service parts. In addition to genuine Mopar or Cummins parts, look for established brands like Exide, Gates, Moog, Bendix, Bosch and TRW.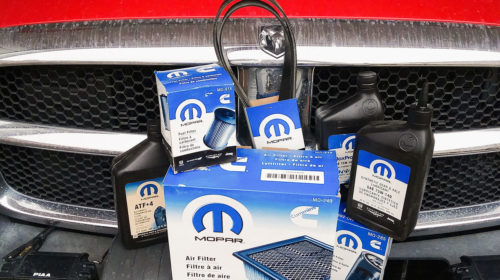 As a truck fleet mechanic in my early career, preventive maintenance demanded OEM equivalent parts installed to factory standards. This approach has served me well for half a century.
Factory standards mean the use of OEM shop manuals. Today, my resource library includes four 2' x 6' bookcases lined with OEM and professional trade shop manuals. Coverage includes our Jeep XJ Cherokee and the 2005 Ram. The pending HVAC air door project will be performed by the book.
Be an Informed Buyer

Do your homework before plunging in. If a particular Ram model looks good and will meet your needs, be clear about the truck's value. Popular means for assessing price are Kelley Blue Book or NADA online. Compare dealership versus private party pricing.
Dealer book value reflects a vehicle in top condition that has undergone a full safety inspection, renewal of tires (unless nearly new), routine service plus thorough detailing. Anything short of "front line" appearance and readiness for a lengthy trip does not deserve full retail pricing.
Price should always reflect the vehicle's mileage and condition. For a private party purchase, the truck may have overdue service. Some sellers prepare the vehicle properly, most do not. Be clear about what the vehicle needs before making an offer. If the vehicle is desirable, but suffers from delayed maintenance and half-worn tires, subtract those costs from the private party pricing.
The third price tier is the trade-in or wholesale value. This is the value a dealer places on the trade-in vehicle. Many consider this a low-ball figure, especially when presented as actual cash value (ACV). In fact, this allowance is legitimized by those dealers who thoroughly recondition a vehicle before resale.
Dealership reconditioning means new tires, necessary body work to assure that all panels are straight and painted properly plus full inside and outside detailing. The vehicle undergoes a safety inspection and needed repairs of brakes, suspension, steering and the driveline systems.
Retail price can be nebulous in this hot used truck market. Dealership pricing for Ram/Cummins trucks often exceeds book value. Condition and mileage become the price determinants. Historically, older trade-in vehicles with higher mileage went straight to wholesale auction. Today, dealers know that any Ram/Cummins truck will move quickly. Many lots hold on to clean older trucks for a profitable retail sale.
There can be great value in a used Ram/Cummins truck if bought right. Be aware that private party purchases offer little or no recourse. A dealership may extend a brief warranty or offer a pricy third party service contract. In any case, you must accurately assess the vehicle's condition and determine its value before making an offer. Once in your hands, a pre-owned vehicle is yours—whether a lemon or a peach.
By Moses Ludel
TDR Writer
Get a TDR Buyer's Guide
For a long read and comprehensive information about the '03-'17 Dodge Cummins Diesel trucks, get a Turbo Diesel Buyer's Guide below.
Click on a link below to open a PDF file.
2017 TDR Buyer's Guide | 2016 TDR Buyer's Guide | 2015 TDR Buyer's Guide | 2014 TDR Buyer's Guide
2013 TDR Buyer's Guide | 2010-2012 TDR Buyer's Guide | 2003-2009 TDR Buyer's Guide